Hello dear Dreadbag friends,
we hope you are all well, you have stayed healthy and are also getting through the hard COVID-19 time especially well under the circumstances !? Unfortunately we too were completely caught and COVID-19 unfortunately changed a lot for us structurally (no festivals such as the Reggae Jam), but we are positive about the future and of course hope for the best. Unfortunately, our production costs have increased enormously in this difficult time and so we are sorry to offer you the new dreadbags for 49,00 euros plus shipping costs. Of course, as always, we pay fair wages and pay very close attention to the choice of material that the material does not contain any harmful chemicals and of course no child labor is involved. In mid-August 2020 the time has finally come and the new Dreadbag 2020 summer collection will be available online. Thanks again this year to all friends, supporters and dreadheads who kept us in line all the time and believed and waited for us in a collegial manner. 🙂 Thank you, without you we would not be where we are today! We hope that we have once again met your taste with the new Dreadbag 2020 summer collection, meet your wishes and are pleased with us that we are a fairly produced and sustainable dread hat / Rasta Cap / Rastafarian Crown / Dreadlocks hat for Dreadheads name Can offer dreadbag in our disposable consumer society.
Dreadbag - quality, style, individuality, spirituality, closeness to nature, dignity & criticism of capitalism combined in a dreadlocks hat / dread hat / Rastafarian crown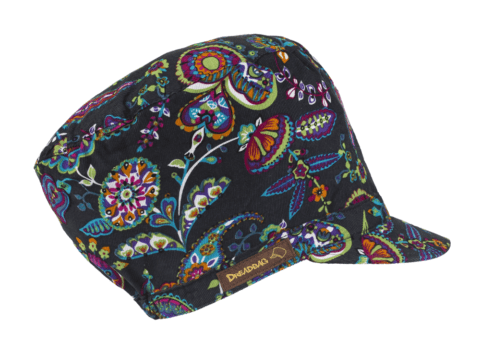 As always, all dreadbags will be available in sizes M - L - XL - XXL and XXXL and we will again offer a wide variety of hat fabrics such as canvas, cord, linen, batik and African fabrics. Some classics will be reproduced at the end of summer, some dreadbag exotics unfortunately not, which is why the good & old dreadbag motto applies: "If you come first, you will paint first!" You can of course send us your own fabrics "Younique your Dreadcap" as always, so that we can produce your unique dreadbags. You can get more information here> Unikat Dreadbag > If there are any further questions, please contact us via WhatsApp, by phone call or write us an email. Of course, we also took great care that each substance does not contain any harmful chemicals and very importantly does not favor child labor. It is actually sad that we have to mention that with the "fair produced" again and again, but unfortunately not everyone in the fashion industry plays fair and does not produce sustainably and exploit many children or people and nature. Not with and with us! Dreadbag.de does it differently - Dreadbag also combines quality, style, individuality, spirituality, closeness to nature, dignity and criticism of capitalism in one dreadlocks cap in 2020.
We are happy if you are all part of Dreadbag and thus make the world a little bit better - In this sense - One love 🙂
Blessed love
Udo & Lin