Features
MOA FIRE - Volume 1 - The Reggae Cookbook
A colorful illustrated book with the popular recipes from DaSandwichmaker - the legendary CaribbeanFood snack truck. The team around professional cook and author Steffen Prase has been spoiling music and street food festival visitors with delicious sandwiches, classic Rasta rice, Caribbean salads and more since 2003.
In the other chapters, Steffen Prase cooks their favorite dishes together with a total of 18 musicians from the reggae scene and also reveals the recipes that he cooked as a tour chef for the Bavarian rebel Hans Söllner and his band Bayaman'Sissdem.
112 pages, as a bonus to the cookbook, there is a music CD sampler with 18 songs.
3. edition 2014
Copyright 2011 Steffen Prase
ISBN 978-3-00-034147-2
The tracklist shows who cooked for the Moa Fire cookbook.
Music CD sampler - track list
01 Sista Lou & Nina Alverdes - Froots Rockers
02. Ephraim Judah - Coming Home
03. Mista Wicked - Heid is a celebration dog
04. Thai style - Love Jah
05. Uwe Banton - Love Light
06. Ganjaman - WHADLF
07. Mono & Nikitaman - Digge Digge
08. Jamaram - Rich Man
09. Stranjah feat. Surviva - Find out
10. Jahcoustix - Hot Stone
11. The Gauwailers - Junk Food Kingdom
12. Sara Lugo - Rocksteady
13. Lyrical BaMa - 2 brothers
14. Hans Söllner & Band - You hitchhike
15. Martin Zobel & Soulrise Band - Reggae Jam
16. Ras Gabriel - Something is always
17. Nattyflo - My Space
18. Dubiterian - Dub Pipe
Each one - teach one - cooking courses with Steffen Prase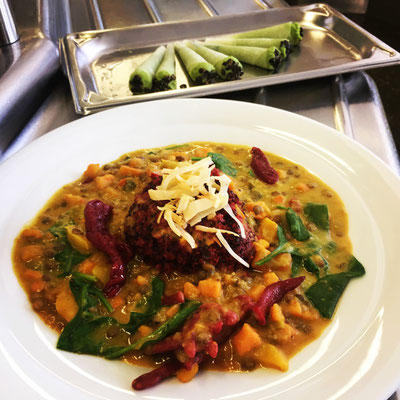 Having fun cooking together, supporting each other, watching each other and taking lots of tips with you on how to treat food with respect - that's what the events around my kitchen should be about. Get to know new ingredients and let's enjoy a relaxing evening at the stove.
Next appointment - soon also in your area, from 10 participants also in your kitchen!

Get to know and love the Caribbean vegan cuisine!
It will be a cooking evening where even the die-hard will not miss anything:
Finger food + main course + dessert
Among other things, we cook with the Jamaican national fruit ackee and with the young, green jackfruit, which is currently celebrated as an alternative to 'pulled pork'. Spreads in delicious and colored and of course the coconut shouldn't be missing either ...
Everything cooked yourself with useful professional tips on shopping and preparation. Each participant receives the recipes to take away.